NEWS

Latest News
12 November 2017
GREENBUILD Boston, MA USA 06-10 November 2017
The attendees from DMG learned a great deal while attending their education sessions at Greenbuild. In particular we learned about the LEED for Cities and Communities program. The LEED certification system is now available on large scale for cities and large communities. For more information see the link below:
https://www.usgbc.org/articles/leed-link-what-leed-cities
DMG is available for consulting for LEED for Cities projects, as well as the other LEED certification programs.
16 October 2017
GREENBUILD Boston, MA USA 06-10 November 2017
DMG will be in attendance at Greenbuild this year in November catching up on the latest developments with the USGBC and green building technologies. We hope to see any travelers from Asia to the event there!
31 July 2017
DMG Booth at Green Building Expo Asia 2017
Development Management Co., Ltd. will have a booth (F-28) at the Green Building Expo Asia 2017. The show will run from 20-22 September at the Impact Exhibition and Convention Center Hall 6, Bangkok, Thailand. Our staff will be available to answer your inquiries about sustainable building design, LEED, TREES, and EDGE building certification. We will also handle inquiries about our other services such as project and construction management.
31 July 2017
EDGE certification expanded to Existing Buildings and Retrofits
The EDGE certification system has broadened its scope to include existing buildings and retrofits.  See the news release below for more details. DMG offers its services both as EDGE Auditors and EDGE Experts to help get your project certified. We look forward to seeing you there.
EDGE has been expanded to include the full stage of a building's life cycle. Now it's possible to certify existing buildings and major renovations in addition to new construction.
The assessment of existing buildings and major renovations within the EDGE App attests to the building's features, not its performance. In this way, EDGE serves as an asset rating instrument that defines whether a building has met the minimum standard of 20 percent less energy, 20 percent less water and 20 percent less embodied energy in materials compared to a base case building.
Broadening the scope of EDGE to include buildings of all vintages is beneficial to many different market players, including managers, banks and buyers:
Portfolio owners and real estate investment management companiescan certify their stock to prove the resource efficiency of their assets.
Banks offering mortgages and financing energy retrofit projects can take a measurable approach to reducing the risk associated with property investments.
Homebuyers purchasing a pre-existing home are assured of the quality of their investment and know that they are doing the right thing for the environment.
For those who are interested in certifying an existing building, the first step is to create your project within the EDGE App. For pricing and to request a quote, choose your country in the Certify section.
EDGE Experts can provide technical assistance to clients in the certification of existing buildings. While this is not required, project owners may be interested in choosing one of the EDGE Experts Around the World to help expedite a project.
For FAQs, refer to EDGE Has Broadened its Scope Beyond New Buildings. For additional inquiries, email edge@ifc.org.
We hope you are excited about this news, and thank you for your ongoing interest in EDGE.
The EDGE Team
20 February 2017
Published recently in the FDI Spotlight Newsweek Magazine, O.B. Wetzell gives his views and experience on project management and the sustainable building market in Thailand and SE Asia. See the link below to read the full article.
20 January 2017
DMG now offers it services as EDGE experts. An EDGE Expert helps developers, owners, and larger project teams understand the EDGE standard, software and certification system. The EDGE Expert advises on green building design and assists with preparation of an application for EDGE certification. For more information of EDGE Experts please visit:  www.edgebuildings.com/edge-experts
12 December 2016
EDGE Building System releases a new video:
See the link below for the latest information on the EDGE green Building rating system:
03 December 2016
DMG staff pass EDGE Auditor exam
On 02 December David Arell and John Covello passed the EDGE Auditor exam. After an approval process David and John will be Interim EDGE Auditors able to assist clients in getting their buildings EDGE certified.
EGDE is a green building system for residential and commercial buildings. EDGE was created by the International Finance Corporation (IFC) to foster more green building projects in the developing world by providing a simple rating system. EDGE's free software enables clients to determine the most cost-saving options for their building's resource-efficient design. If clients earn a minimum of 20% less energy, water and embodied energy in materials, and their project will have met the EDGE standard.
EDGE designed buildings are currently saving 43,304,000 KWH/year of energy, 842,000 M3 of water, and 7,281,400 MJ in embodied energy around the world.
To find out more about EDGE visit:
21 October 2016
Final Week for More Green at Less Cost
The LEED green building rating system will be updated to a more stringent standard for any projects not registered by 31 October 2016. Register any potential LEED projects under the old system before 31 October to save money and time.
Development Management Group Co., Ltd. (DMG) is a member of the US Green Building Council and has LEED certified professionals on staff. DMG can register projects for LEED certification, advise for sustainable building design and guide projects through the process for final certification. Please contact DMG at john@dmg-thailand.com or call (66) 076-617-763 to discuss LEED certification. Visit the DMG website at www.dmg-thailand.com.
What is LEED?
LEED, or Leadership in Energy and Environmental Design, is a building rating system which began in the US but is now the most widely used system in the world. The system is useable for virtually all building project types, from new construction to interior fit-outs and operation & maintenance. LEED provides a framework that project teams can apply to create healthy, sustainable, and cost-saving green buildings. LEED is the most widely used third-party verification for green buildings, with around 172,000 square meters being certified daily.
Why Choose LEED
Buildings are responsible for 40% of global energy use, resource consumption and one third of greenhouse gas emissions. Green construction is becoming increasingly profitable and desirable within the international construction market. According to a Dodge Data & Analytics, World Green Building Trends 2016 SmartMarket Report, the global green building sector continues to double every three years, with survey respondents from 70 countries reporting 60 percent of their projects will be green by 2018.
Green buildings are cost efficient. According to the US Green building Council the cost benefits of green buildings include:
• Upfront investment in green building makes properties more valuable, with an average expected increase in value of 4 percent. By virtue of lowered maintenance and energy costs the return on investment from green building is rapid: green retrofit projects are generally expected to pay for itself in just seven years.
• Green buildings reduce day-to-day costs year-over-year. LEED buildings report almost 20 percent lower maintenance costs than typical commercial buildings, and green building retrofit projects typically decrease operation costs by almost 10 percent in just one year.
• Between 2015 and 2018, LEED-certified buildings in the United States are estimated to have $1.2 billion in energy savings, $149.5 million in water savings, $715.2 million in maintenance savings and $54.2 million in waste savings.
What the change to the new version means:
LEED is constantly evolving and raising its standard with each new version. The new version is LEED V4. The standards are higher for all areas in the LEED system, but particularly in the areas of energy use and building materials. Some of these standards will be more difficult to achieve in Thailand and SE Asia. They demand better energy measures and a higher standard of material specification than is the norm in Thailand. Registering a project in LEED V3 before the 31 October deadline will be easier to achieve certification and less expensive.
10 October 2016:
EDGE Building Certification Assessor Services: DMG staff will soon be able to offer Building Assessor services for the EGDE Building System. The EDGE Building System software allows for cost-effective options for building resource-efficient design. A project must earn a minimum of savings of 20% less energy, water and embodied energy in materials, for the project to meet the EDGE standard. EDGE Building certification provides third party verification as to the sustainability of your project which greatly increases it's marketability. The EDGE building certification includes a preliminary certificate at the end of the design audit, and final certification after a construction audit. The EDGE system was created by IFC, and member of the World Bank Group.
10 October 2016:
Greenbuild: DMG was in attendance at the US Green Building Council's international convention for green building, Greenbuild located this year in Los Angeles, CA, USA. Greenbuild is the world's largest conference and expo dedicated to green building. The team witnessed several inspirational speakers in the green building movement and attended many informative classes.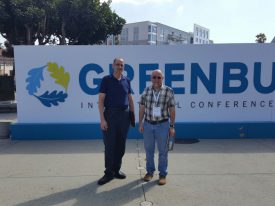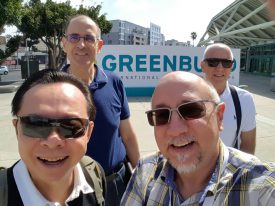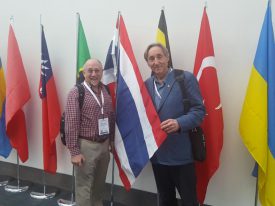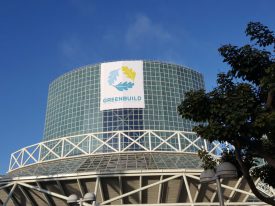 30 September, 2016:
UPCOMING EVENT
Place: Prince Songkla University, Phuket, Thailand
Date: 27 October 2016:
Managing Director O.B. Wetzell  will address students from the ESSAND program regarding environmental challenges in Phuket.
30 September, 2016:
Managing Director O.B. Wetzell addressing the forum on water scarcity and sustainability at the UN ESCAP conference in Bangkok, Thailand on 26 August, 2016.
23 August, 2016
DMG Managing Director O.B. Wetzell will be speaking at the UN ESCAP conference in Bangkok Thailand on 26 August. He will be addressing water scarcity and sustainability at at a roundtable addressing water scarcity through cost effective and innovative responsible business practices. The event will be at the Countries
United Nations Conference Centre (UNCC), 76 Rajadamnern Nok Ave, Bangkok 10200 Meeting Room A. See more information on the conference at the link below.
http://www.unescap.org/events/informal-roundtable-addressing-water-scarcity-through-cost-effective-and-innovative