EDGE Consulting

What is EDGE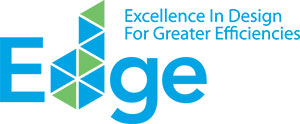 The EDGE certification process rewards developers who implement strategies to reduce energy use, choose building materials with less embodied energy, and reduce water use in their buildings.
The EDGE software program empowers clients to determine the most cost-effective options for their building's resource-efficient design. If a project earns a minimum of 20% less energy, water and embodied energy in materials, and the project has met the EDGE standard.
Why Choose Edge?
EDGE reduces investor risk, attracts customers and makes a CSR statement of corporate excellence and environmental responsibility.
The EDGE software shows quickly how committing to a few practical energy and water-saving options improves building performance without incurring much if any additional costs. The savings are quickly calculated and displayed to reveal the most economically viable path to a sustainable building design. Designers input their building location and design data online, choosing from a list of common sustainable features, to yield results of savings in energy, water, and material embodied energy. Once the software results are approved, a project can apply for certification.
The Benefits of EDGE certification incudes:
Sends a positive signal to investors.
Drives profitability that leads to expansion.
Increases property valuation.
Ensures cost control and consistency across properties.
Complements efficiencies in construction and labor.
Contributes to a brand of corporate sustainability.
The EDGE process:
The EDGE Certification process involves five steps:
Inquire: Contact GBCI and express interest in certifying your project. GBCI will certify the project's costs.

Create: Create a user profile on line and input the project data into the EDGE software. The software will give immediate feedback on the sustainable measures chosen for the design and if they meet the program requirements.

Select: Contact an EDGE Auditor to review the project's documentation and verify if it meets the EDGE requirements.

Apply: The EDGE Auditor submits the data for review by the EDGE Partner.

Certify: Receive EDGE Certification by the EDGE Partner (certifier).
---
Why Choose DMG:
DMG staff have been trained in the EDGE system as Auditors and Experts. We can offer services to cover either role. Additionally DMG has many years of experience with sustainable design and can offer guidance on choosing measures that best meet the EDGE requirements.